I'm sitting here dreaming of falling leaves and pies baking on the stove, of crackling fires, turkey dinners with cranberry sauce, and apple picking. Mmmm.... Fall is in the air and all around us. In pretty much everywhere but Southern California anyways! In substitute, I would at least like my house and my baby to smell like fall. Personally I love fall scents and all the memories they bring. Pumpkin, cranberry, apple cider. Caramel, pecan, figs. One of the fun things about cloth diapers is that we get to use these awesome products that have delicious scents.
Crow Mountain Crafts
recently stocked at
Kissed by the Moon
with lots of delicious fall scents to tempt, tease, and delight your appetite!
Let's go through some of their products and available scents and discuss a little... what do you think?
To start off we'll begin with a staple for any cloth diapering, cloth wiping family...
Crow Mountain Crafts Small Cloth Wipes Cubes/Booty Bits
! These will make a yummy smelling wipes solution that will last for days. Fun fall scents include: Apple Caramel Crunch, Spiced Cranberry, and Cozy Cabin, as well as others you'll have to find for yourself! These are one of my favorite wipe bits to use. I count the number of days I am going to be making solution for and add the same number of bits, maybe adding one or two more, to boiling or hot water. I wait for it to cool and
Voila!
wipes solution! Impatient? Yeah, me too. Try mixing with 1/2 the amount of boiling water, stir in your bits, and add some cool water so you get a nice lukewarm mix. Dip your wipes in your concoction or fill your spray bottle, its all ready. You can also use this as soap while traveling, just dissolve in the bath and your little one will smell delicious all over. You can never have enough wipe bits for that cutie bootie!
Next in the line up is a wool essential:
Crow Mountain Crafts Liquid Wool Wash
. If you're going to be soaking your wool wouldn't it be awesome to get your whole house smelling like I don't know... Pumpkin Pie? That is my number one favorite fall dessert and if I can't have it, I am certainly happy to have my house all yummed up smelling like it! Other delicious fall options are Baked Apple Pie and Coffee Mocha. If you just need a quick lano for your wool or a mid-month pick me up, this is the wool wash for you. It's as simple as a squirt or two in your woolie bath and
Presto!
your house is full of fall aromatics!
Crow Mountain Crafts Liquid Wool Wash
is concentrated and condensed so you don't need to use too much, this bottle will last you for awhile. Now you just need to figure out... 2 bottles or 3? Or more?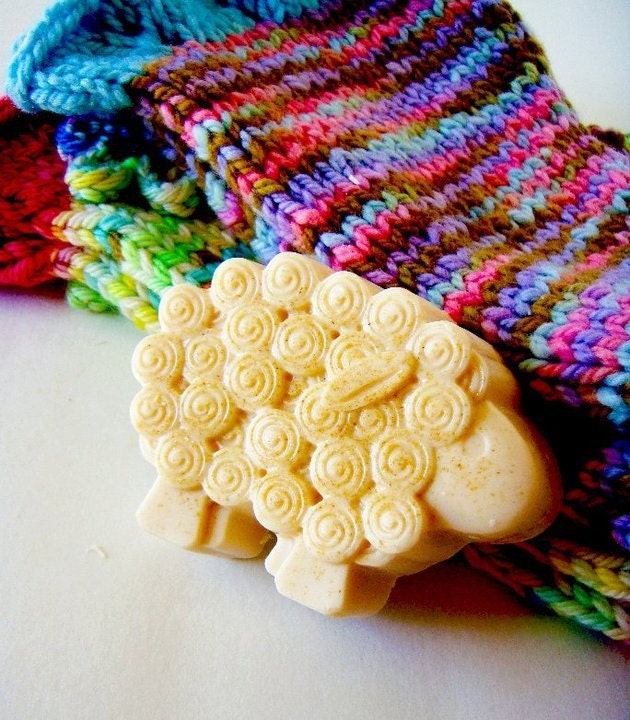 If liquid wool wash isn't your thing
Crow Mountain Crafts
gives you a nice alternative in their
Lanolin Wool Wash Bars
. I have a Juicy Cherry wool wash bar, but I have a feeling I'm going to be stocking up on some Pecan Pie pretty soon! Just like cloth diapers, it seems like every time I put a piece of wool on my baby bean, she feels the need to have a party in her pants! Usually resulting in some messy wool! Nice for the double lano'ing... not so nice for last minute outfit matching. Wool wash bar to the rescue! This super awesome wool wash bar cleans and adds some light lanolin to your wool. Just gently rub the spot in question and
Ta Da!
bye-bye ick, hello deliciousness! Now here is your dilemma... Pecan Pie or Cherry Pie? Chestnuts & Brown Sugar or Figgy Pudding? Wanna know a Rissa-Rule? When in doubt get it all ;)
To round out the
Crow Mountain Crafts
family we have
Crow Mountain Crafts Booty Mist Wipes Solution Spray
. While no fall scents are currently in stock (keep an eye out in the future!) you can snag some oh so appetizing Pina Colada. This is my number one favorite scent. Even in fall. You know when you get those chilly November blues and you're just longing for fun, sun, and yummy drinks again? This definitely helps! Just spray some Pina Colada Booty Mist goodness on your little one's bum and close your eyes. Mmmm... its almost like pool side in Hawaii!
Crow Mountain Crafts Booty Mist Wipes Solution Spray
is pre-mixed for you, no muss, no fuss. Just spray on and wipe off. Great for travel or if you're in a rush.
What's your favorite fall scent?