Wednesday, November 7, 2012
Sunday, November 4, 2012

Welcome to the Fall 2012 Cloth Diaper Drive Giveaway & Fundraising Event hosted by Leettle Baby!
This is the first time I have been able to participate in a cloth diaper giveaway and I am so excited! Leettle Baby has hosted many other giveaways in the past and I have been lucky enough to win a prize in one of them. This is where we all get to spread the love and maybe get some back!
Last spring
, with your help, we were able to send 30 diaper covers and 30 cotton prefolds to the DFW Cloth Diaper Project.
This time around we would love to make an even greater impact. For this event, we would love help the
Tomahawk Sustainment Mission
in their efforts to expand their cause to begin a cloth diapering program that will benefit the people living in the poverty-stricken Appalachia region of Kentucky. The founder, Terri, has estimated that there were 500 children that could benefit from this program.
DID YOU KNOW? The Appalachia region covers 13 different U.S. states, encompasses 420 counties and includes 25 million people? Sadly, some of the most distressed areas have 150% poverty rate over the average U.S. rate.
Why Cloth Diapers?
As many of us parents know, diapering our children can cost us a fortune. According to the
Real Diaper Association
, using disposables costs a family about $66 dollars per month, and about $1,600 for the first two years. Now imagine if you had to decide if your family was going to eat or spend money on buying more diapers. Some families even have to re-use their babies DISPOSABLE diapers because they cannot afford to buy more. The wonderful thing about cloth diapers is that you do not have to worry about purchasing more diapers and you can always have clean ones readily available! With this diaper program, these families will not have to spend a penny on diapers for their children.
In addition, disposable diapers are not compostable and are estimated to take 250 - 500 years to break down! Now imagine if you did not have a trash service to remove those diapers (like some of those living in the Appalachia area)...where would they go? Cloth diapers provide a more sanitary option to the environment and reduce landfill waste.
How You Can Help
A
donation
in any amount is greatly appreciated and is tax deductable.
There are quite a few other ways that you can help us get as many of these precious children cloth diapered as possible, just click
HERE
.
As a thank you for spreading the word about this cloth diapering program,
Leettle Baby
and a team of amazing bloggers are going to reward you with an awesome giveaway...with the opportunity to win one of the two cloth diaper prize packages!
Grand Prize
** Jona from The Little Bee Co. has graciously offered to send one Bee Changed Diaper for EACH one purchased during the diaper drive event, make sure that you put "LoveAppalachia" in the comment section when you order! Shop HERE! **
Second Prize
Funky Fluff 1 One-Size Cloth Diaper (valued at $18.40)
Glow Bug 1 One-Size Cloth Diaper (valued at $12.50)
Smart Snugs NatureSnug™ Bamboo Diaper (valued at $18.00)
Giveaway is open to US residents (US & CAN residents for second prize) ages 18 and older only, beginning on November 5th, 2012 and ending at 12:01 am on November 21st, 2012. Winners will be notified by e-mail provided by the Rafflecopter form and has 48 hours to claim prize before another is selected.
5... 4... 3... 2... 1... !!!!
Who's ready for another round of
Peachy Green
?
If you've been paying attention the last week or so, you may have noticed some super cute diaper previews posted on the
Kissed by the Moon Facebook Page
. Its that time again...
Peachy Green
release time! This time around, in addition to the Solo Luxe AIO,
Kissed by the Moon
fans also get the option to purchase the Sprout Up OS AI2 and Switcheroo Cover-n-2. Are you excited yet? I am!
Let's go over some difference between the different types.. you with me?
Blue Icicles
First off the tried and true, I love it, Solo Luxe AIO.
PUL outer in colors and prints
Bamboo/organic cotton inner
Sizing 0-1-2

Bamboo/organic cotton soaker
Leg openings: No tucking needed, stretchy elastic for thin or chubby thighs
4 rows of snaps, you can adjust leg and waist separately.
Blue Moon
I have tried the Solo Luxe AIO and I love it. This diaper is so trim and so adorable. I do love a fluffy booty, but sometimes you need to put on pants, and this is the diaper to do that with. Even if it means ( tear :( ) covering it up.
Next up is the Switcheroo Cover-n-2
PUL outer in colors and prints
Inner you can wipe clean for multiple changes and flaps to hold prefolds!
Sizing 0-1-2 (newborn covers too!)

No soaker, you can use this with prefolds, flats, or fitted diapers.
Leg openings: Double elastic with gentle leg gussets to contain messes.
3 rows of snaps, you can adjust leg and waist separately.
Highland Games
I haven't tried this yet, but I will definitely be ordering one. Covers are one of my favorite types of diapers. We use a lot of fitteds and flats so this work should work perfectly into our routine!
Rounding out the
Peachy Green
line up is the Sprout Up OS AI2.
PUL outer in colors and prints
Soft custom-milled microfleece. Shell can be reused for multiple changes!
One Size with 3 rise adjustments
Bamboo/organic cotton soakers
Leg openings: No tucking needed, stretchy elastic for thin or chubby thighs
5 rows of snaps, you can adjust leg and waist separately.
Sunshine
I am super excited about this. When I started cloth diapering, AI2s were the bulk of my stash. I adore that these are bamboo/organic cotton since that is such an absorbent combination and very gentle on baby bums.
Peachy Fact? These diapers are sewn in Missouri, USA!
Other colors and prints coming to you on November 1st?
Minnie
Crimson
Rainbow Zig Zag
Be sure to have your alarm clock set! These all go on sale November 1st at 10 am CST. And once they are gone, they are gone! Act fast!
What is your Peachy Green style? What is your favorite color/print of this release?
Saturday, November 3, 2012
I'm sitting here dreaming of falling leaves and pies baking on the stove, of crackling fires, turkey dinners with cranberry sauce, and apple picking. Mmmm.... Fall is in the air and all around us. In pretty much everywhere but Southern California anyways! In substitute, I would at least like my house and my baby to smell like fall. Personally I love fall scents and all the memories they bring. Pumpkin, cranberry, apple cider. Caramel, pecan, figs. One of the fun things about cloth diapers is that we get to use these awesome products that have delicious scents.
Crow Mountain Crafts
recently stocked at
Kissed by the Moon
with lots of delicious fall scents to tempt, tease, and delight your appetite!
Let's go through some of their products and available scents and discuss a little... what do you think?
To start off we'll begin with a staple for any cloth diapering, cloth wiping family...
Crow Mountain Crafts Small Cloth Wipes Cubes/Booty Bits
! These will make a yummy smelling wipes solution that will last for days. Fun fall scents include: Apple Caramel Crunch, Spiced Cranberry, and Cozy Cabin, as well as others you'll have to find for yourself! These are one of my favorite wipe bits to use. I count the number of days I am going to be making solution for and add the same number of bits, maybe adding one or two more, to boiling or hot water. I wait for it to cool and
Voila!
wipes solution! Impatient? Yeah, me too. Try mixing with 1/2 the amount of boiling water, stir in your bits, and add some cool water so you get a nice lukewarm mix. Dip your wipes in your concoction or fill your spray bottle, its all ready. You can also use this as soap while traveling, just dissolve in the bath and your little one will smell delicious all over. You can never have enough wipe bits for that cutie bootie!
Next in the line up is a wool essential:
Crow Mountain Crafts Liquid Wool Wash
. If you're going to be soaking your wool wouldn't it be awesome to get your whole house smelling like I don't know... Pumpkin Pie? That is my number one favorite fall dessert and if I can't have it, I am certainly happy to have my house all yummed up smelling like it! Other delicious fall options are Baked Apple Pie and Coffee Mocha. If you just need a quick lano for your wool or a mid-month pick me up, this is the wool wash for you. It's as simple as a squirt or two in your woolie bath and
Presto!
your house is full of fall aromatics!
Crow Mountain Crafts Liquid Wool Wash
is concentrated and condensed so you don't need to use too much, this bottle will last you for awhile. Now you just need to figure out... 2 bottles or 3? Or more?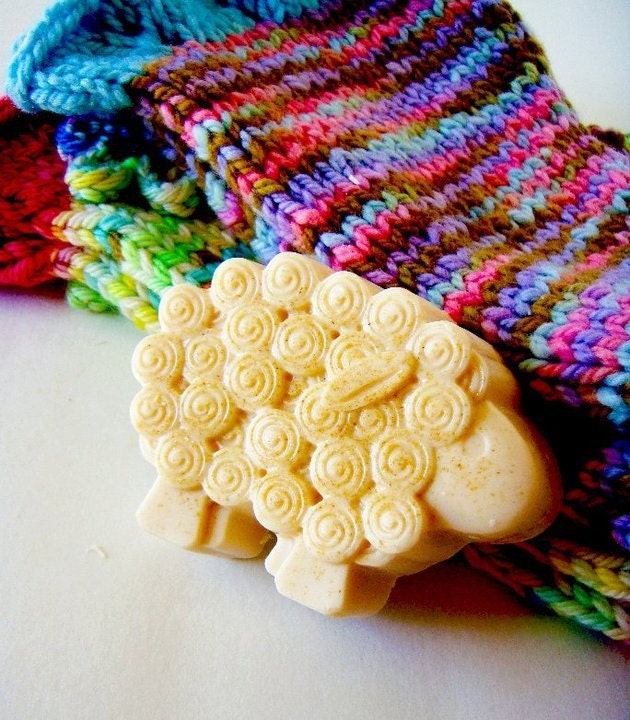 If liquid wool wash isn't your thing
Crow Mountain Crafts
gives you a nice alternative in their
Lanolin Wool Wash Bars
. I have a Juicy Cherry wool wash bar, but I have a feeling I'm going to be stocking up on some Pecan Pie pretty soon! Just like cloth diapers, it seems like every time I put a piece of wool on my baby bean, she feels the need to have a party in her pants! Usually resulting in some messy wool! Nice for the double lano'ing... not so nice for last minute outfit matching. Wool wash bar to the rescue! This super awesome wool wash bar cleans and adds some light lanolin to your wool. Just gently rub the spot in question and
Ta Da!
bye-bye ick, hello deliciousness! Now here is your dilemma... Pecan Pie or Cherry Pie? Chestnuts & Brown Sugar or Figgy Pudding? Wanna know a Rissa-Rule? When in doubt get it all ;)
To round out the
Crow Mountain Crafts
family we have
Crow Mountain Crafts Booty Mist Wipes Solution Spray
. While no fall scents are currently in stock (keep an eye out in the future!) you can snag some oh so appetizing Pina Colada. This is my number one favorite scent. Even in fall. You know when you get those chilly November blues and you're just longing for fun, sun, and yummy drinks again? This definitely helps! Just spray some Pina Colada Booty Mist goodness on your little one's bum and close your eyes. Mmmm... its almost like pool side in Hawaii!
Crow Mountain Crafts Booty Mist Wipes Solution Spray
is pre-mixed for you, no muss, no fuss. Just spray on and wipe off. Great for travel or if you're in a rush.
What's your favorite fall scent?